Also look under the updates for more frequent news!
17 Oct. 2014
Further Furlough Travels
Hello everyone,

Thank you for being so patient with us as we have been traveling around the past several weeks. We have neglected to keep in touch to let you know what God is doing. So sorry! Our time in Alaska was a blessing. We stayed with some great people and enjoyed telling churches and individuals about the ministry. Thanks to Calvary Baptist in Kenai for increasing our support, and for some new individual partners from Homer!

After Alaska, we spent time with Matt's family in Michigan, and with our daughter and son-in-law in Ohio. That was a wonderful time. Amy was Aunt March in the university's production of Little Women. What a delight to see her acting! Amy is close to finishing her degree, and she and Casey will be moving to Albequerque NM just before Christmas.

Luke seems to be doing well in his first semester at Corban University. We don't hear much from him, so he must be keeping busy.

We have been asked to head up a new ministry: SEE (Sports Event Evangelism). This will be the Summer Olympic Games outreach that has previously been sponsored by Answers in Genesis under the direction of Dr. David Crandall. He would like to retire, and we have been excited about this ministry since the 2000 Sydney Games. As you know, Matt has also been going to the FIFA Soccer World Cup events since 2006. We are still church planting in Australia, and will be able to direct this new ministry from there. We have seen such great results from each event since 2000, and we are eager to take on this new role.

Below is our schedule for the rest of the year. We would ask you to pray for continued safety as we travel, and also that God would supply new partners in church planting in Australia and SEE. Our support needs have increased this year with the new ministry and the rise in insurance and housing costs. Please pray about whether you or someone you know might be able to partner with us so we can return to the field by mid-January.

October 19: Highland Baptist Church, Hayward, CA
October 26: Calvary Baptist Church, Paradise, CA
November 2: Orchard Ave Baptist Church, Vacaville, CA
November 9: San Francisco Bible Church
November 10-15, Salem, OR, attend Corban University fall production of Camelot (Luke is in the play!)
November 16: Sunrise Valley Baptist Church, San Jose, CA
Fly to Michigan
November 19: Nashville Baptist Church, Nashville, MI
November 21: Attend Amy's Senior Theatre Project at Cedarville, OH
Thanksgiving with Matt's family
Fly to California
Thanks for praying!
Matt & Barb
ABWE Australia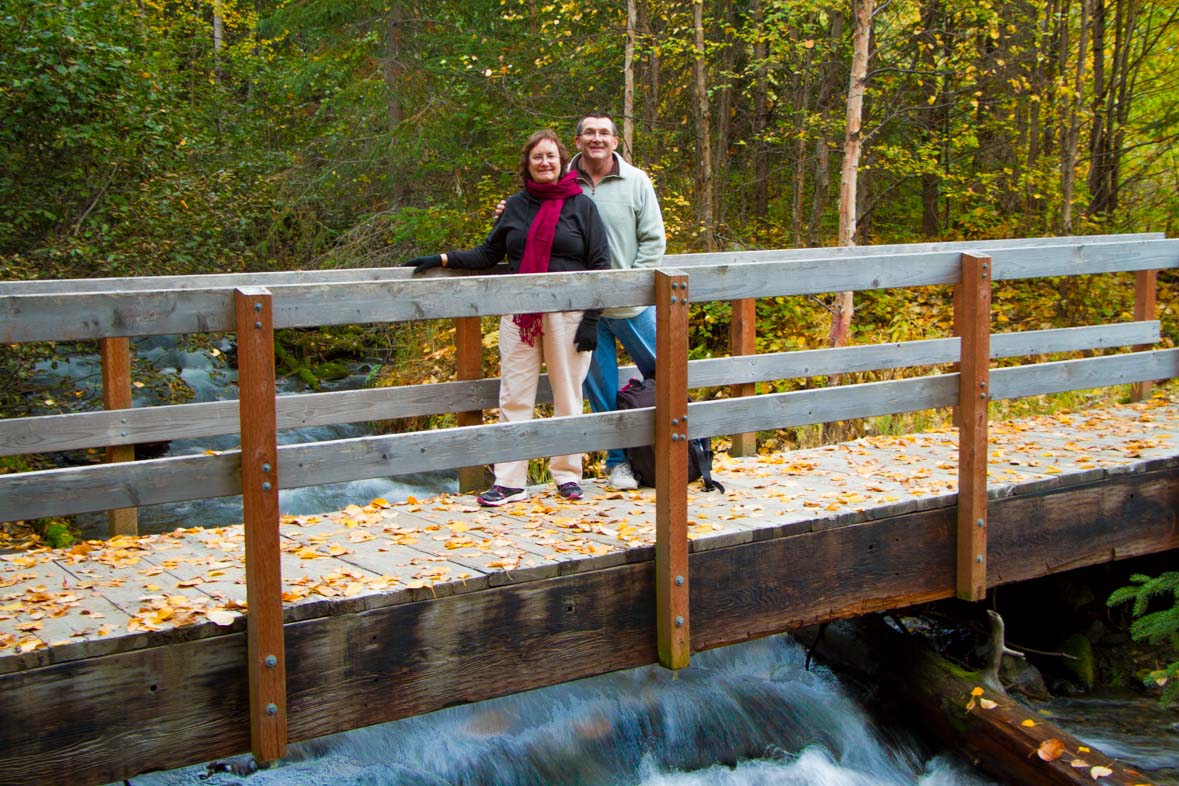 Douglas Dispatch End 2013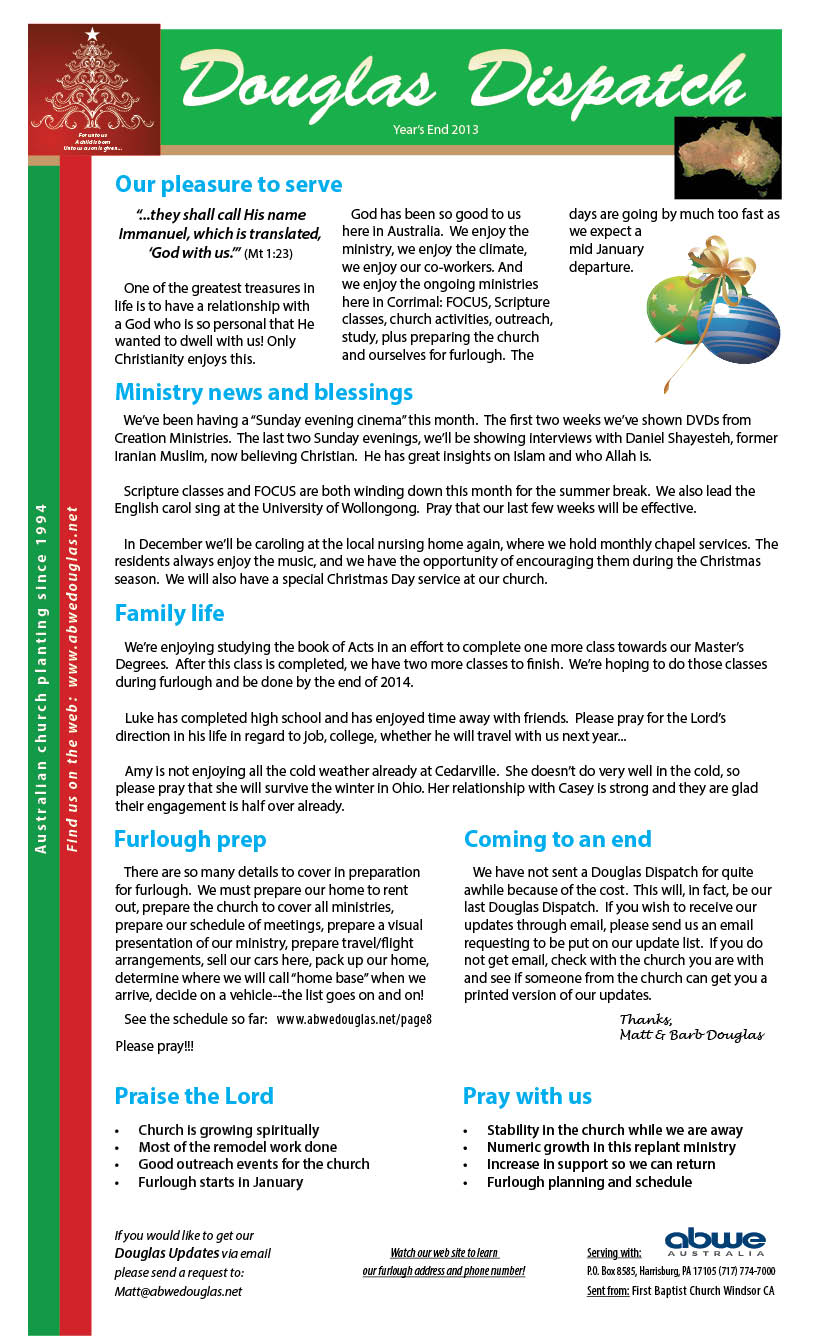 ++++++++++++++++++++++++++++++++++++++++++++++++++++++++++++++++++++++++++++++++++
Last modified:
Douglas Dispatch Oct-Dec 2011 letter size paper PDF Douglas dispatch Oct-Dec 2011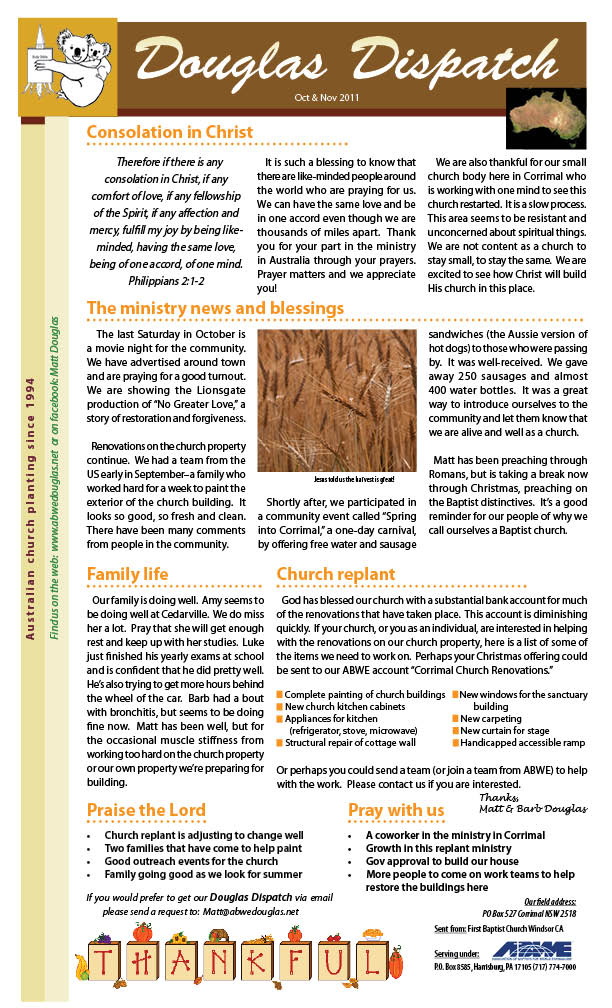 Douglas Dispatch AprilMay 2011 PDF
Douglas Dispatch AprilMay 2011 letter size paper PDF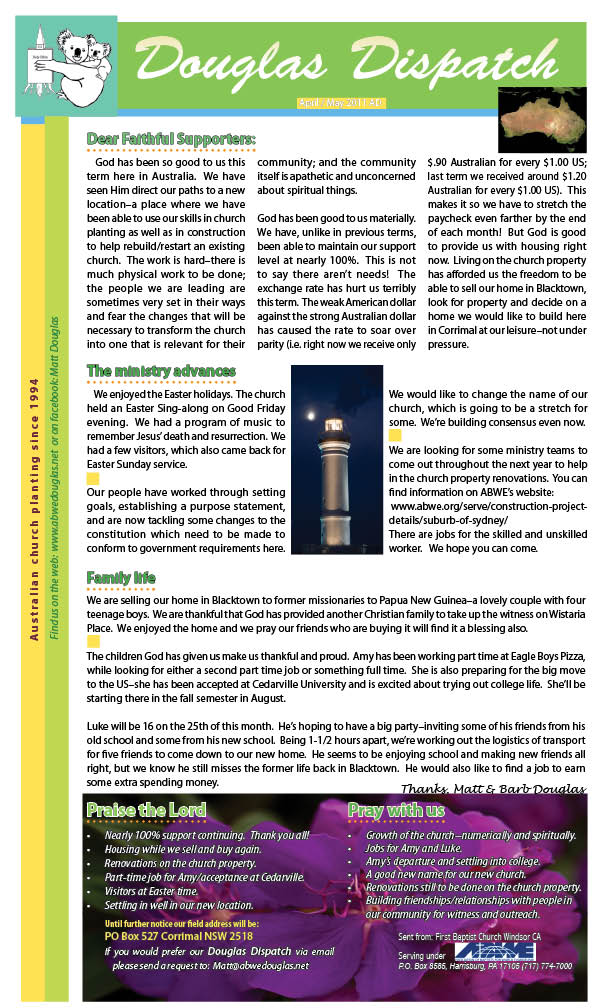 Douglas Dispatch NovDec 2010 PDF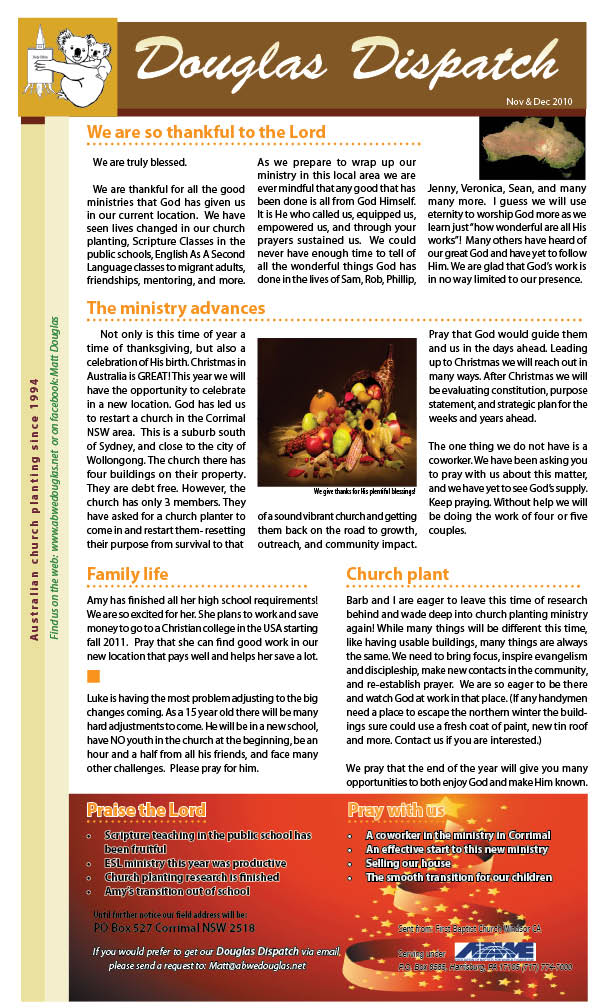 Douglas Dispatch Spring 2010 PDF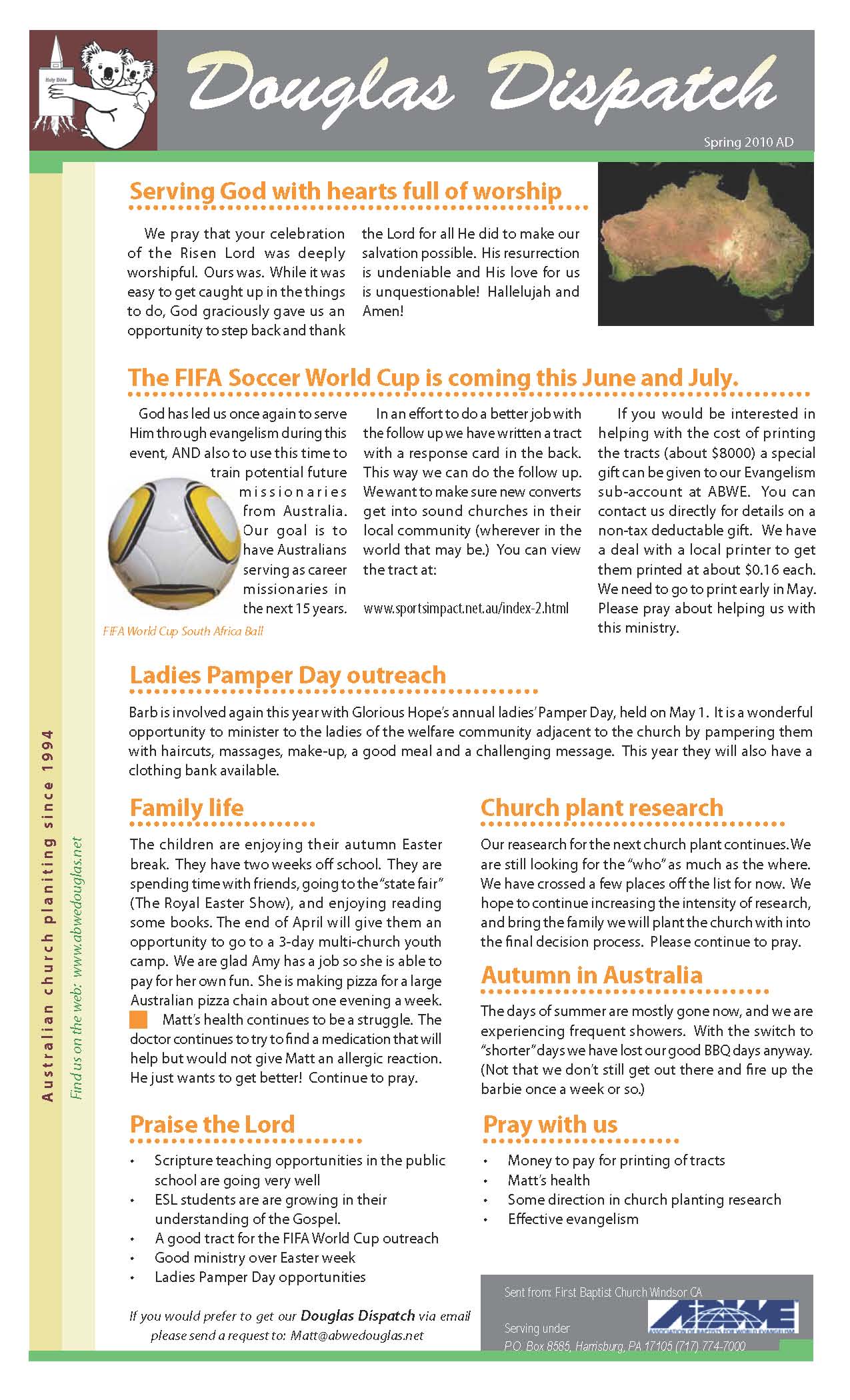 Douglas Dispatch Christmas 2009 PDF with graphics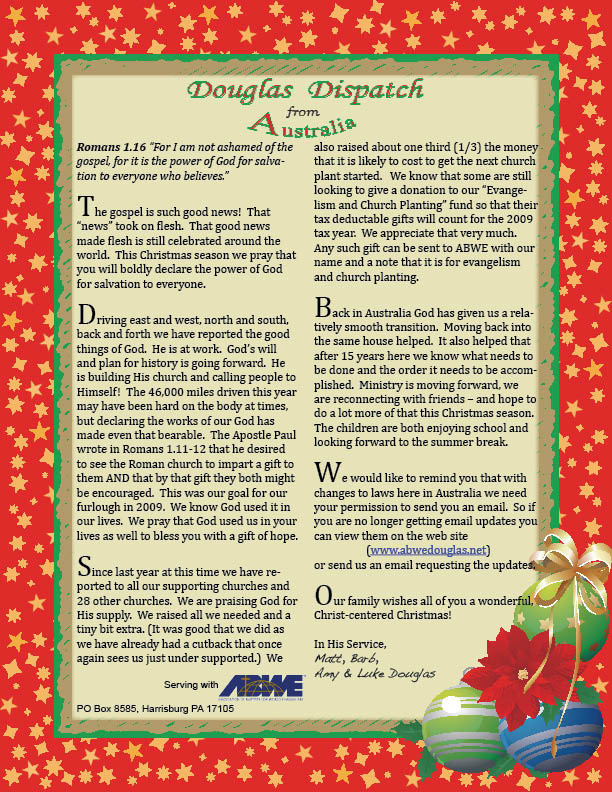 -----------------------------------------------
Douglas Dispatch Christmas 2009 in new Word Document text only
Douglas Dispatch April 2009 PDF file

-----------------------------------------------
-----------------------------------------------